Use the provided templates to upload a CSV of new data, bulk edit existing data, or connect an ArcGIS Online Feature Layer to display BMP drainage areas.
Format your import data correctly on your computer to prevent any errors when importing new assets.
Requirements for all import files
The import file must be a .csv.
Each column header should correspond to a property that exists for that asset to be properly imported.
The tool will match the column header the corresponding property name where possible. Otherwise, you can manually map your column headers to the corresponding property name.
If you are using Excel for Mac, make sure to save your CSV file in the format of "Windows Comma Separated (.csv)". Otherwise you may have trouble importing mac CSV files.
Importing Data
Download the appropriate template (below)
Format your dataset using the template
Save your dataset as a .csv
Select Import button in the blue banner
Select the layer you would like to import
Drag & Drop or Browse for your .csv file
If necessary, fix any errors and map any column headers to the correct fields
Click Import
Upload Templates
Error Messages
The import tool will generate error messages to indicate whether an entry is a conflict, invalid, ignored, or duplicate.
A conflict is any entry that has an existing ID in the database. The import cannot be completed until these IDs are changed.
A invalid is any entry that does not meet that field's formatting requirements (i.e. text in an integer field). The import cannot be completed until these IDs are changed.
An entry is ignored when a non-required field does not meet that field's formatting requirements.
Importing Structural BMP Drainage Areas
You can upload structural BMP drainage areas from ArcGIS Online using the steps below. This is currently not a live connection; meaning if the feature layer is updated on AGOL, it will not be updated in 2NDNATURE. We are working on ways to make this connection live, stay tuned!
Upload structural BMP drainage areas to ArcGIS Online (if necessary)
Ensure drainage area feature layer in AGOL contains a "BMP ID" field that maps to an existing BMP in 2NDNATURE.
Navigate to the feature layer in AGOL and find the Service URL
Copy the Service URL
Navigate to 2NDNATURE platform
Click in the top banner
Click Import Data
Click Structural BMPs Drainage Area
Paste the Service URL
Map the BMP ID field to the correct field (if necessary)
Click Import
Editing Existing Data
Users can currently bulk-edit structural BMPs and industrial/commercial facilities. Functionality
coming soon for outfalls and projects!
To bulk-edit your existing data: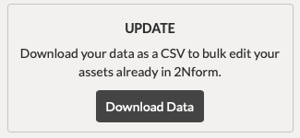 Click in the top banner
Click Import Data
Click either Structural BMPs or Facilities
Click Download Data
Open the .csv file and edit all fields as necessary, making sure to follow our formatting guidelines

Note: if you are unsure of our formatting guidelines, please also download the corresponding template to review the data formatting requirements

Save the file as a new .csv
Drag & Drop or Browse for your new .csv file
Review any error messages and the number of BMPs that will be uploaded/edited
If all looks good, click Import
Exporting Data
We are currently revamping the way data is exported. Users are able to currently export data from Structural BMPs, and Trash. To do so:
Navigate to the module that you are interested in
Click in the top banner
Click Export Data
Select the format (Excel or Shapefile) that you would like
If you would like to export other data that is not listed above, please contact customer support! We apologize for the inconvenience.